Gay Erotic Stories: What Comes Around [Kindle Edition]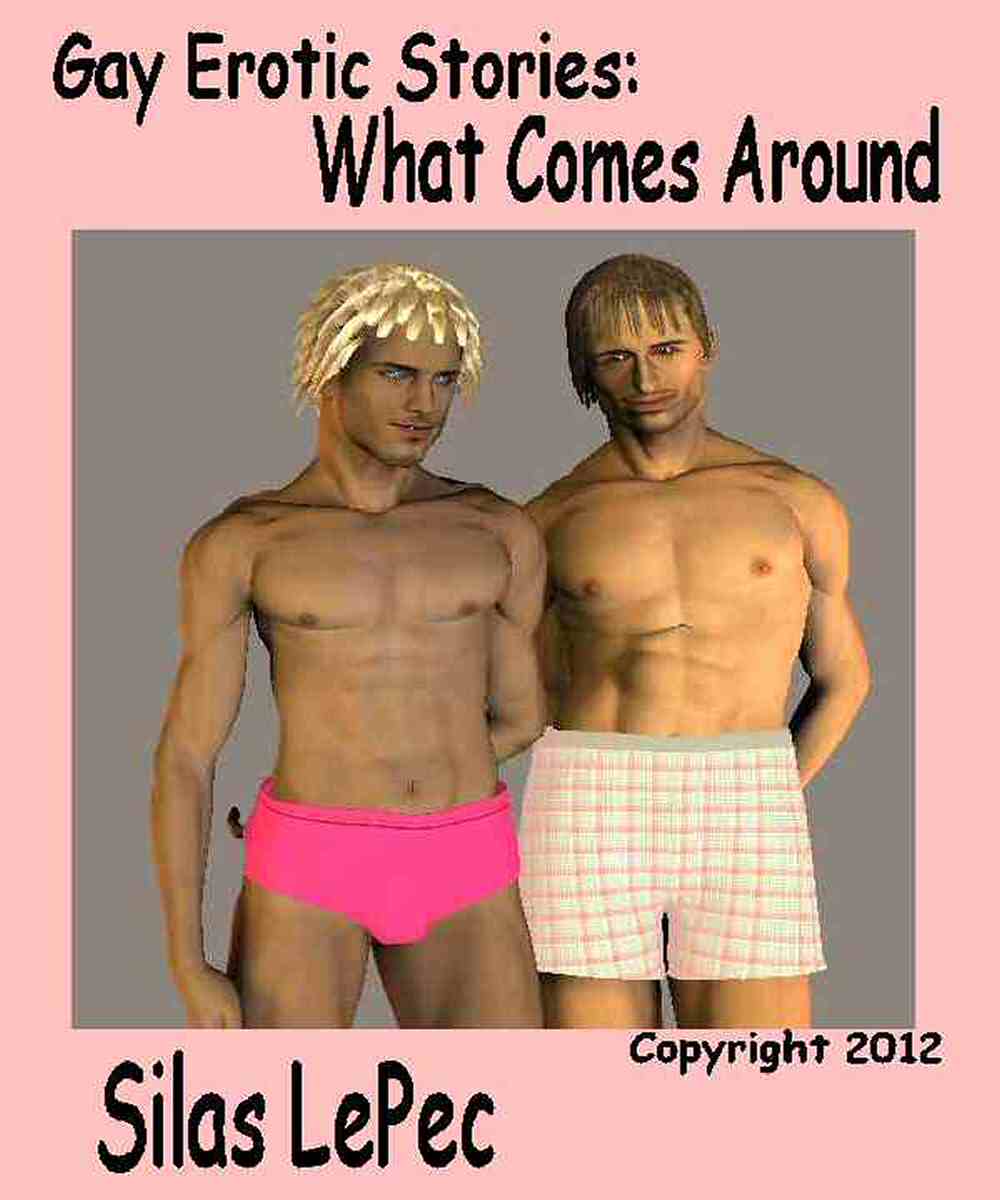 Gay Erotic Stories: What Comes Around [Kindle Edition]
Gay Erotic Short Stories
Matt Graysone And The Wrestler
Matt Graysone And the Rodeo Clown
Matt Graysone Gets Some At The Junkyard
Matt Graysone And The Politician
Steve K In A Sex Game
The Gay Vampire
Gay Erotic Stories: What Comes Around
A group of stories with horny characters that connect together. The book starts with Matt 19 and living with his Aunt and Uncle.
The first story, Matt Graysone And the Wrestler, is about a wrestler's truck breaking down in front of the Graysone home. In exchange for fixing the truck of Hank Stark, a popular wrestler, Hank agrees to teach Matt some wrestling moves. At the Gym Matt and Hank have oral sex.
In the second story, Matt Graysone And the Rodeo Clown, Matt is year older. He and his Aunt and Uncle plan a vacation to a dude ranch. There he meets the Rodeo Clown Clyde Stevens. He also meets Rosey Clark who is on the heavy side. He is attracted to Clyde while Rosey is attracted to riding instructor Joan Roffer. While dirt bike riding near a rock quarry he sucks Clyde's cock but Clyde does not suck him. Then he discovers that Clyde is married.
In the third story, Matt Graysone Gets Some At The Junkyard, Matt meets Bing Barso who owns the junkyard. He is a bearded, hairy and heavy fellow. He also meets Howie Ghoustrip who is Bing's lover. Howie comes on to Matt but they don't have sex. Matt has an agreement to work at the junkyard in exchange for parts he needs to rebuild a car to sell. Bing then offers him some more free parts and junk cars to work on but also demands that Matt have sex with him. Matt first thinks it will just be oral sex but finds his behind being spanked and probed and …
In the fourth story, Matt Graysone and the Politician, Matt meets Boris Plimpkit who is running for Mayor. Matt helps Boris get his name known. Though Boris doesn't get elected Mayor he does make the current Mayor take notice and agree to get the state to remove the Sheriff. Matt and Boris fall in love.
In the fifth story, 19 year old Steve K accepts a wager with Bing Barso. Steve loses the wager and Bing takes Steve to an area where men cruise for sex. Steve sees his Uncle Robert's truck parked. When his Uncle comes out of the woods with a man, Steve hides in Bing's truck. Then after his Uncle leaves Steve goes into the woods with Bing.
In the sixth story, The Gay Vampire, Matt meets Karl Plimpkit who is the father of the man he loves, Boris. Matt learns that his Aunt and Uncle know Karl Plimpkit all too well.
The are fun stories for quick reading. These stories contain strong sexual content of a gay nature.
Gay Erotic Stories: What Comes Around For Just 99 cents. What a deal for some fun reading.
From Matt Graysone And The Wrestler
My name is Matt Graysone and I am nineteen years old. I used to tell myself that I am not gay but hell yeah, I am. As of yet, I still haven't had the nerve to do anything but think about sex with this guy or that guy. I stay horny all the fucking time.
I am a busboy at a pathetic restaurant and take classes at a Community College. After graduation, most of the people I went to school with either got real jobs and went straight to earning money or went on to build up huge student debt at some four year whack job institution that the government and elite media promotes. Oh God, did I just start on politics. I blame my Uncle Raymus for causing that kind of shit to pop around in my head.
To a more important subject, I workout pretty regular so I've got a pretty nice body if I say so myself. I don't exactly have six pack abs but my stomach is firm. I have a 28 inch waist which my uncle's friend Robert Way says makes me too thin but I think he is just fucking jealous. I have blonde hair and blue eyes and since I like being out doors I currently have a great tan. Robert also says that tan will make me look old by the time I am fifty. I tell him, "Fuck you." Sometimes, by the way he looks at me with that haunting stare, with those big brown eyes, I think he would like it if I did fuck him.
Robert Way is husky and has manners that scream red neck but he is okay. He sometimes slips into my fantasies when I am trying to picture Brady Pitt naked and in bed next to me. Brady Pitt is my name for that actor. Yeah, you know who I am talking about. Anyway, in my fantasy Brady Pitt is laying in bed and looking all sexy. Do I like him better with long hair or short hair? I can't decide but in this fantasy he has long hair. I rub my cock in his long hair. I wish I knew what that might feel like; someone's hair touching my cock. I move my cock from his hair and I am rubbing my cock all over his face leaving a precum trail and I am just about to touch my dick to his lips when here comes Robert into my fantasy. He knocks me away from Brady Pitt and tells me that is not the way you fuck an actor. Then Brady Pitt vanishes from the bed and Robert is laying in bed and my dick is touching his face. I quickly erase that image from my mind and picture the teacher in my English Class at the Community College. I don't know why I get off by thinking about him spanking my naked ass and calling me dirty names but hey, when I am jerking off that fantasy gets me there.
Read More….
The are fun stories for quick reading. These stories contain strong sexual content of a gay nature.
Gay Erotic Stories: What Comes Around For Just 99 cents. What a deal for some fun reading.
_____
You might also be interested in: Billy Bingo: Sexual Blackmail